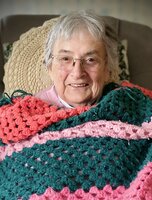 Donna Louise Freeman
Donna Louise Freeman was born January 28, 1938 on Greens Island off Vinalhaven in a small
lobster pound to Walter and Blanche Rogers, where Walter was working for the winter. Walter
rowed them from Greens Island to Vinalhaven for her first visit with the doctor the next day.
She lived her entire life on Crescent Street in Rockland's South End, and married her high
school sweetheart Richard Freeman (dec. 2013) in her parents' backyard. Donna and Richard
built their own home down the street where they raised three sons, Scott, John and Jason.

"I'm quite content with the way that I am." Her high school senior quote described the way she
lived her life, humble and devoted to family. She would often babysit for neighbors, as caring for
little children was a delight for her. Donna was known for loving all creatures. In addition to
family cats and dogs, she raised rabbits and even kept a rescued racoon who became a local
celebrity.

While she happily spent most of her life in the South End, she did find her way to Coconut
Grove, Florida, Maui, San Francisco, and Sedona, Arizona. She especially enjoyed putting
hundreds of puzzles together over the years and enjoyed working on them with her sons and
grandson.

Donna was blessed with a single grandson, Noah, who brought endless joy into her life. She
was surrounded by love and is survived by: her three sons, Scott and his wife Heather of
Camden, John and his wife Paula and grandson Noah of Thomaston, and Jason and his partner
Sarah Szwajkos of Camden; her sister Sandra (and her late husband Capt. Ray O'Neal) of
Rockland; nieces and nephews Teresa, Dale, Susie, Danny and their families; and her sister-in-
law Ruth (and her late husband William) Lucas and their son Gary of Rockland.

Donna and her family are extremely grateful for the wonderful caretakers who provided loving
care for her as a resident of the Knox Center in Rockland.

A private graveside memorial will be planned for summer 2023.
In lieu of flowers please send donations to Pope Memorial Humane Society, popehumane.org,
207-594-2200; P.O. Box 1294, Rockland, ME 04841
Memories and condolences may be shared with the family at www.directcremationofmaine.com