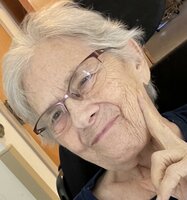 Mary Ellen Beaulieu
Mary Ellen Beaulieu Waterville, Maine (1940-2023)

Mary Ellen (Veneziano) Beaulieu of Winslow passed away on March 1, 2023, of natural causes after a brief stay at the Oak Grove Center in Waterville, Maine.
Mary Ellen was born in Madison, Maine on November 17, 1940, to Julian and Mary Veneziano. She attended Madison public schools where she met dear, life-long friends, especially Patricia Antonuccio and Pamela Messier. Following high school, she attended beauty school in Portland, ME then returned to Madison and married Leo Beaulieu in January 1963. The couple were married for 29 years and had three children Dana, Michael, and Sally whom they raised in Anson.
Mary Ellen opened her own beauty shop in her home and provided service to her many long-term clients for 30 years until she moved to Winslow in 1997 to be with her significant other of 26 years, Ronald Gilbert. She then worked in the kitchen of the Oak Grove Center for 5 years. Mary Ellen enjoyed reading, traveling, playing cards, being in the sun, and tennis. She cherished her time with friends, particularly Beanie Richardson and Sylvia Corson. She looked forward to gatherings with her Veneziano cousins, especially her travel and card game partner Sara Sylvester with whom she remained close throughout her life.

Mary Ellen is predeceased by her father Julian, mother Mary, sister Betty, husband Leo, and son Dana.

She is survived by her partner Ronald Gilbert of Winslow, daughter Sally Beaulieu of Hallowell, son Michael Beaulieu of Litchfield, Daughter-in- Law Narcisa (Risa) Beaulieu of Anson, granddaughters Bethany Beaulieu and her partner Tom Bethoney of Whitman MA, Darby Beaulieu and her partner Evan Randles of Waterville ME, Bianca Beaulieu of Somerville MA and grandson Bayley Beaulieu of Litchfield ME as well as many nieces, nephews, cousins, and good friends.

Funeral services will take place in the spring. Arrangements are being handled by Direct Cremation of Maine. If you are so inclined, please consider a donation to the Dementia Society of America or the American Heart Association.
Memories and condolences may be shared with the family at www.directcremationofmaine.com