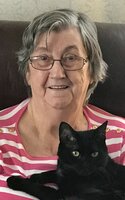 Judith Anne Warman
MILLINOCKET- Judith "Judy" changed her residence from Sedgewood Commons in
Falmouth to her heavenly home with Jesus on February 24, 2023. Judy passed
away peacefully with her daughters by her side. Her family would like to extend a
special thanks to the amazing staff at Sedgewood Commons for not only providing
excellent care, but love. What a blessing to see her so happy and at peace. We
would also like to extend our thanks to her home church, Zion Pentecostal for
loving her and keeping her in their prayers. A special thanks to her dear friend,
Rose Williams for being such a wonderful friend right up until the end. Judy loved
arts and crafts and was always working on gifts for others. She was well known
for her homemade relish and was able to make a final batch in 2021. Judy will be
remembered for her heart of gold.

Judy was born in Patten Maine to Stanley "Tom" and Dorothy (Webster) Grass in
April 1941. She graduated from Patten Academy in 1959. She married William
"Bill" Warman in 1960 and they raised three daughters together in Stacyville.
They remained happily married for 55 years until his passing in 2015. Judy took
excellent care of her husband while he gradually declined from a long illness.
Judy is survived by her sisters Carolyn Lord and her husband Barry of Patten and
other sister Diana Warman and her husband Peter of Millinocket. She is also
survived by her daughter Cheryl Brackett and her former husband Marty, their
son Kris, his wife Kris and their children Gabrielle and James of East Millinocket
and Cheryl's son Martin "Jamie" Brackett and his partner Kari of Medway. She
also leaves behind her daughter Lynda Warman and her partner Joseph Perry of
Millinocket. She is survived by Lynda's son Justin and his partner Anne Marie,
their children Colby, Bella and Nicklaus Warman of Millinocket. She is survived
Lynda's other son Seth and his wife Allison Warman of Carrabassett, their children
Wesley and Evelyn. She is also survived by her daughter Vicki Gayton of Portland
who provided care to her mother for the final years of her life.
Judy is predeceased by her brother Rodney Grass of Patten but is survived by his
wife Ruth Grass. She is also predeceased by her brother Robert Grass of Medway
but is survived by his wife Doris. She is also survived by numerous nieces and
nephews and other family and friends.

There will be a Celebration of Life service at the Zion Pentecostal Church in
Mattawamkeag on March 11th at 1:00 with a fellowship reception following at the
church.
Memories and condolences may be shared with the family at www.directcremationofmaine.com