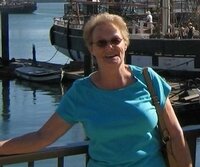 Marion I. Hall
Marion I. Hall of Searsport passed away on Friday, November 4, 2022, at the age of 85 with her daughters Marcia and Connie by her side. Marion was born February 1, 1937, in Searsport, Maine, the daughter of Maurice and Violet (Evans) Pendleton.
Marion loved spending time with her family and enjoyed attending services at her church. She frequently traveled to California and Florida. She loved road trips, especially to the ocean. She enjoyed walking and being outdoors, loved to cook and was well known for her molasses cookies, fudge, and Tea Time. She loved watching Little House on the Prairie, Boston Red Sox, and Boston Celtics.
Marion was predeceased by her husband, Alfred Hall, her son, Shawn Perkins, daughter, Rita Cote, and several brothers and sisters.
Marion is survived by her daughters Marcia Rooney, Connie Hamilton, six grandchildren, 16 great-grandchildren, brother Dickie Pendleton, as well as many family and friends.
A celebration of her life will be at the Brooks Pentecostal Church at 178 Monroe Highway in Brooks, Maine, on Friday, November 18, 2022, at 2:00 PM. All are invited to share conversation and refreshments following the service.