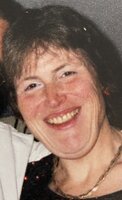 Denise Davis Bourque
Denise (Davis) Bourque, 65, of Waterville passed away peacefully on November 4th at her home in Waterville after a brief, but valiant battle with cancer.
Denise was born in Millinocket on April 26, 1957, the daughter of Chester H and Jeannette (Forand) Davis. Denise attended schools in Old Town and graduated from Old Town High School in 1975. Denise attended Beal College and graduated in 1978 with an associate's degree in business management.
Denise spent most of her career working in retail and retired from Hallmark as supervisor in 2019. She spent her spare time working on various crafts like crocheting, cross stitch and plastic canvas. She also loved researching her family's genealogy and traced her family's ancestry all the way back to the Mayflower.
Denise is survived by her husband of 14 years, Fern, stepchildren William Bourque and his wife Rhonda, Lynn Berry and her husband Mitchell, brother Chester Davis, brother Jeffrey Davis and his wife Karen, brother-in-law Stephen Bourque and his wife Lois, brother-in-law Terry Anthony, nieces Natasha, Rose, Frannie and Celeste and many great nieces, great nephews, cousins and friends.
She was predeceased by her parents.
The family would like to thank MaineGeneral Hospice for their care of Denise in her final days, especially Reagan and Debbie.
Memories and condolences may be shared with the family at directcremationofmaine.com.
A committal service will be held at Morses Corner Cemetery in Corinna on Saturday, November 12th at 11am.
In lieu of flowers, donations may be made to the Humane Society at https://hswa.org/