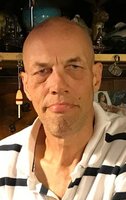 James Albana Small III
James Albana Small III was born on Thanksgiving Day November 25, 1963. His parents were James Albana Small II and Miriam Whitehead both of Brunswick Maine. James died on October 3, 2022, in the Critical Care Neurological Care Unit at Maine Medical Center, Portland, Maine.
He leaves behind his beloved life partner of twenty years Elaine Emily Varney of Georgetown, Maine.
He also leaves behind his good friends Scott Goodall of Woolwich, Maine, and Dorothea Roussopoulos of Burlington, Massachusetts.
James was a very gifted artist. He had his own micro business called Island Wood Puzzles. He made the most intricate three-dimensional wooden puzzles of a variety of animals. His most prized and favorite creation was his "Maine Moose".
He was also a genius regarding computers. He loved to tinker and often got 3 or 4 old discarded computers and took component parts out of each of them to build a fully functioning "New Computer" out of all these old parts!
He was a master at fixing things around the house and he was always helping his neighbors by weed-whacking and leaf-blowing around their homes as well as his own backyard and frequently offered to lend a hand to neighbors whenever they needed his assistance.
James was an "animal whisperer" and made good friends with the birds, chipmunks, squirrels, and deer who lived near his home. He even loved "Stinky" the skunk.
He served his country in the National Guard. Although he lived for a few years in California, Florida, and Virginia, James took great pride in the fact that he was a "real Mainer" because he was born and raised in Brunswick, Maine, and was not "from away".
His short life had meaning and he will be missed.
Memories and condolences may be shared on his tribute wall at www.directcremationofmaine.com
Donations can be made in his memory to:
Pets for Vets Inc.
P.O. Box 10860
Wilmington, NC 28404
Or
American Stroke Association
7272 Greenville Avenue Dallas, TX 75231