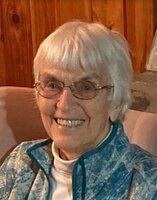 Ruth B. Estes
Ruth Braley Estes, 96, of Auburn died peacefully on September 28th at home surrounded by family and love.
She was born March 26, 1926, the third child of Clyde and Mildred Candage Braley. She attended Auburn schools graduating from ELHS in 1944. She studied nursing at Central Maine General Hospital. She was dedicated to her career as a registered nurse. She was head nurse for CMG's intensive care unit for approximately 11 years. Her picture hangs on a wall of Central Maine Hospital to this day. She later worked with Dr. Louis Fishman in his surgical office. After retirement, she was instrumental in the formation of CMG's Nursing Alumni Association.
She married Gordon Estes in October of 1948. She was a loving parent and grandparent who balanced family and career. She was a gifted knitter who knit sweaters and mittens for all of her grandchildren and 23 great-grandchildren.
Ruth was a life-long resident of Auburn except for a year-long stay at Fort Campbell, Kentucky where Gordon was stationed in 1963.
She is survived by her children: Catherine Jacobs and husband Jeff of West Bath; Lynda Van Tuinen and husband William of East Madison; Curtis (Skip) Estes and wife Patti of Council, Idaho; and Martha Bartlett and husband Tim of New Gloucester. She was predeceased by her husband, parents, and her siblings Clyde, Betty, Dorothy, and Ralph Braley.
She adored all her 11 grandchildren: Philip, Rob, and Hanna Jacobs; Kate, Gordon (Max), Nathan and Luke Estes; Samuel and Jacob Van Tuinen; and Dr. Emily and Tyler Bartlett. She loved chocolate and loved lavishing it on her 23 great-grandchildren: Lauren, Morgan, Finn and Elliott Jacobs; Roger (Taz), Sheamus Keough, Seth McGhee: Leah, Lucas, and Emma Van Tuinen; Parker, Camille, Cooper, Tucker, and Jack Estes; Sophie and James Pickering: Grant and Dakota Estes; Matrim, Pathen, and Tristus Estes. She leaves several nieces and nephews.
The family of Ruth Braley Estes will have a Celebration of Her Life on Saturday, October 22nd from
12 to 3 PM at the Church of Jesus Christ of the Latter Day Saints, 247 Walnut Hill Rd., North Yarmouth.
Memories and condolences may be shared on her tribute wall.