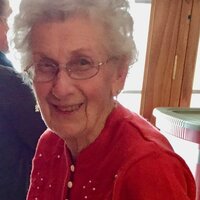 Lucille T. McCaslin
Lucille (Tilton) McCaslin, 97, went to heaven to join her loving husband, Bill, and daughter, Lorna Raymond, on August 22, 2022. She passed at her home that she built with Bill. Lucille was born August 3, 1925, in Sidney to parents George and Lydia (James) Tilton. She was sixth oldest of ten siblings.
Lucille graduated from Norridgewock High School in 1942 at the age of 16. She then went to a commercial college and graduated at age 18. In 1940 Lucille had the pleasure of meeting Senator Margaret Chase Smith. Margaret told Lucille that when she graduated, she would take Lucille to Washington, D.C. Luckily for Bill and her family she turned down Margaret's offer.
On July 6, 1947, Lucille married the love of her life, William McCaslin, and moved to Winslow, where they raised their family. Lucille was a beloved wife, mom, grammie, great-grammie, aunt, friend and so much more to so many people. She was well known for her baking and sharing the goodies. She enjoyed having her family around. Over the years she taught many adults and her grandchildren how to read. Lucille loved to garden and enjoyed taking care of her blueberry bushes. Over the years she took in family members that needed a helping hand. Lucille was also a long-time member of the First Church of Waterville, Maine.
In addition to her parents, her husband and daughter Lorna, Lucille is predeceased by her sister, Myrtle, and brothers, Harvey, Dean, Ronald, Lloyd, Lewis and Merle.
She is survived by her sisters, Rose Norton of Niceville, Florida and Rachel Gibbs of Gales Ferry, Connecticut, children, Darryl McCaslin and wife, Ann, of Easton, Maryland, Derek McCaslin and wife, Jean, of Winslow, Maine and Dwight McCaslin of Skowhegan, Maine, son-in-law, Ron Raymond of Winslow, Maine, grandchildren, Heather Metten of Winslow, Maine, Meredith McCaslin-Lowell and Christopher, of Apopka, Florida, Tony McCaslin of Fairfield, Maine, Adam Conary of Oakland, Maine, Kristina Vigue and husband, Sean, of Waterville, Maine, Kaitlyn Burke and husband, Jeremy, of Fairfield, Maine and Jessica McCaslin and partner, Paul Raudonat, of Union, Maine, great grandchildren, Katarina, Brayden, Bryce, Hannah, Jonah and Melody, as well as several nieces and nephews.
The family is grateful for all the support and care that Lucille received from Maine General Hospice and her dedicated caregivers. We appreciate all the loving care that Lucille received.
A graveside service will be held 12 noon on September 23, 2022, at Maine Veterans Memorial Cemetery, 163 Mount Vernon Road, Augusta, Maine. Celebration of life will follow at the VFW 175 Veterans Drive, Winslow, Maine.
In lieu of flowers please consider a donation to either Maine Children's Home 93 Silver St, Waterville, ME 04901 https://www.mainechildrenshome.org or Pine Tree Camp 114 Pine Tree Camp Rd, Rome, ME 04963 https://www.pinetreesociety.org/children-and-families/pine-tree-camp/