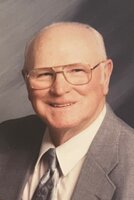 Richard Kincaid McClay
Richard Kincaid McClay, 85, beloved husband of Dorothy (Kinney) McClay, passed away Friday, August 5, 2022. Son of the late James and Alma (Boyd) McClay; he was raised in Blaine and graduated from the Eighth Grade in 1952. From there he worked a variety of farm and factory jobs from Aroostook County to Coastal Maine to Connecticut and back again. His longest position was as owner and operator of McClay's Slaughterhouse, which he held for 20+ years and made into a unique but valuable community service. His later years were spent driving school bus and continuing to work on the farm, spoiling his grandchildren (and great-grandchildren) and taxiing various family members and in-laws about.
Besides his wife of more than 52 years, Dorothy, he leaves three sons, James H. McClay (Lisa) of Washburn, Richard K. McClay Jr. (Ashley) of E Plantation, and Gregory V. McClay of Lowell, MA; his grandchildren, Meagan (Tyler), Zackary (Tabitha), Brittany (Ryan), Bryce (KariLynn), Jadasti, and Marcial; great-grandchildren, Layla, Lilly-Zoe and Jay; his brothers Vail McClay (Anna) of Southington, CT and Sterling McClay of Sutton, MA and many, many nieces and nephews.
In addition to his parents, he was predeceased by his first wife, Bonnie (Brewer) McClay; his sisters, Jackie Beals and Mary Fields, and a brother, William H. McClay.
There will be a Memorial Service on Sunday, August 14th at 2pm at the Full Gospel Assembly of Presque Isle, 7 Dudley St., Presque Isle, Maine. Memorial contributions may be made to Full Gospel Assembly of Presque Isle PO Box 1267 Presque Isle, ME 04769.