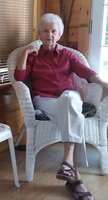 Dorothy L. Davis
Pittston: Dorothy L. Davis 91 of Pittston, Me. Passed away peacefully
on July 10, 2022 at Maine General Hospital after suffering a stroke. She was born
on September 28, 1930 to Phillip Hamlin and Ava (Adams) Hamlin. She was
predeceased by her husband of 39 years Galen A. Davis Jr., her youngest son
Mark P. Davis, sister Francis Hopkins and brother David Hamlin.

Dorothy is survived by her oldest son Galen A. Davis III and wife Darlene Davis of
Gardiner, Me. a daughter Lynda M. (Davis) Grant of West Forks, Me. a very special
daughter in law Denise Davis of Manchester, Me. and a sister in law Isla Hamlin of
Gardiner, Me. She also is survived by her 7 grandchildren, Tarsha Davis Howard
and husband Dexter, Jedediah Davis and wife Melissa Davis, Bryce Davis and wife
Sarah Davis, Kayla Grant and partner Dennis (Butch) Kinney, Kimberly (Grant)
Nadeau and husband Todd Nadeau, Karrie (Davis) Shaw and husband Rick Shaw,
and Neil Davis and wife Kristen Davis. She was also blessed to have 11 great
grandchildren, Brooke, Carrigan, Addison, Sophia, Shelby, Sydney, Hannah, Kailey,
Olivia, Isabelle and last but not least Henry the only boy. She was also survived by
several nieces, nephews and cousins.

Dorothy lived a full life were in her younger years she enjoyed camping, hunting,
skiing, spending time at the ocean and just being with her family. She opened her
own real estate business in the 60's. She also worked years with her husband in
the antiques business.

There will be a celebration of life on Sunday August 7 th , at 1:00pm at the American
Legion Hall in Gardiner, Maine.